How to lower your CO2 Footprint with your Office Printers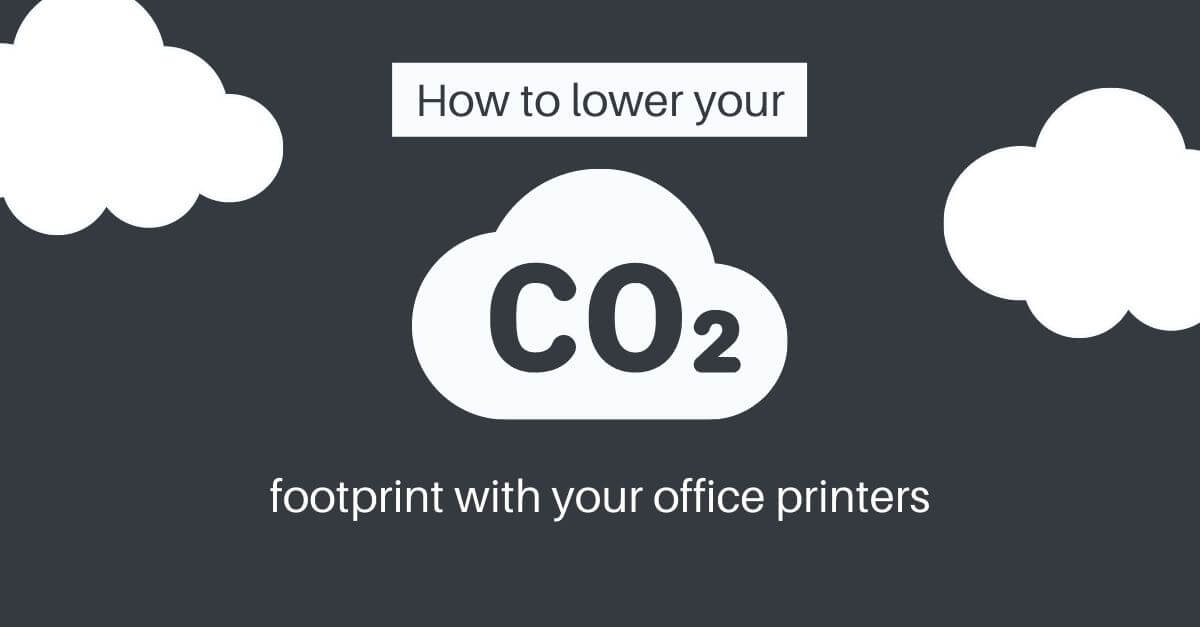 The world is on a mission to undo decades of releasing excessive carbon emissions through our everyday activities and we understand that many of our customers are measuring, monitoring, and aiming to reduce their carbon footprint. Thankfully, we are pleased to say that your office printers can have a part to play in this.
You might think that this is bad news for a business like Smart Office Solutions and that we'd not speak so openly about how you can reduce your carbon footprint. However whilst we are in the business of supplying printers and print agreements, we're also keen to support our customers in achieving their goals and are leading on supplying technologies that support in meeting the same needs as a printer, and do so in an environmentally sensitive manner.
Here are our top tips for how you can reduce the carbon footprint in your office.
1. Take advantage of print queue management
Gone are the days when you'd have to find the closest printer on the network and hope that it wasn't being used by others, in most cases these days, printing has moved to a central print queue. This means that you can open up any device with access to your company's network and send the document straight to the printer. What this also means is that if there are several people sending documents at once, they'll all go onto one large print queue, rather than being sent directly to the printer.
In addition to streamlining the process for users, print queue management has also allowed for us to waste less paper, no longer will documents be printed and forgotten about, only to be thrown in the bin and re-printed at a later date. Releasing documents at the printer based on the user tapping a card or entering their code is not only more secure for confidential information but it also means that print is collected 100% of the time.
2. Green up your older printers
If you have any older printers in your inventory then it might be worth thinking about replacing them (or at least having plans in place to do so). Older machines are often still good enough for most day-to-day printing requirements but anything more than this and they'll use more power than their newer counterparts.
When you do take the step to upgrade your assets, keep an eye on the power ratings and environmental standards of any printer that you either have or are looking at purchasing. Many manufacturers have a wide range of printers available in different sizes, resolutions, and formats which might suit specific departments within your organization better than others. Here are a couple of examples of the copiers that we stock and provide to support CO2 reduction:
Konica Minolta C300i – Built with state-of-the-art technology that ensures competitively low energy consumption – which saves both energy and money
Ricoh CM3000 – Operating at under 1,700w maximum, this copier is built for a greener world with a focus on reducing its carbon footprint.
3. Think about the type of paper that you're using for printing
In theory, it doesn't seem like there would be much difference between using normal A4 paper from the high street compared to recycled equivalents from office suppliers but when you start to crunch the numbers in terms of print volume across a whole organization, this small difference can add up in a big way! If we were to print out a year's supply of A4 documents for example for argument's sake 30 sheets per day that would be 7,800 sheets for more sustainably sourced paper used.
The best way to make an impact is to start early and change your printing habits as much as possible. By encouraging conscious consumption of paper among your workforce.
4. Maximise your printer usage by printing double-sided where possible!
As far as cost per sheet goes, there isn't much difference between double-sided printing and single-sided but there are many benefits in terms of environmental sustainability. But just adopting this simple technique reduces your paper consumption by half.
This might not seem like much in the grand scheme of all things sustainable, but it does add up.
So to summarise, there are many ways to reduce your carbon footprint with your office printers, some include upgrading your hardware or software and some are more about upgrading your business practices, but whatever your goal Smart Office Solutions can help make sure that you are being as eco friendly as possible.